Play sport, have fun, keep fit!
In the centre of town, yet tucked away behind The Old Boys' School on Gretton Road, you'll be glad you've found Winchcombe Sports Hall!
For over 25 years, we've provided a low-cost, community-run venue for people of all ages to enjoy a variety of sports.
Maybe you'd like to join an existing club or perhaps you'd prefer to set up your own group, or just get together with family or friends for an occasional kick around for someone's birthday or during the holidays.
After you've had your exercise, there are various local pubs and cafes within walking distance where you can enjoy some well-earned refreshment!
How can I book?
First of all, you need to become a sports hall member – for which you need to be over 18. Membership costs £5.50 for 5 years or a £10 one-off payment. Yes, it really is that cheap!
There are various conditions that we ask everyone to adhere to (please do have a read through our Conditions Of Use document). The main ones are:
Youngsters must always be supervised by an adult

Please wear clean trainers

Only take water to drink into the hall – no other food or drinks

Put all equipment away neatly when you've finished

Help to look after the place so that hire rates can stay low!
If you'd like to use the hall regularly or are hoping to arrange a football birthday party in advance so that you can send out your invites, please contact our bookings secretary. You can get an idea of what might be possible by looking at Winchcombe Sports Hall Availability on this website. We'll email you an invoice for your booking with details for you to pay by bank transfer.
To book a session
This can best be done vie email, and secondly via text message.  See the BOOKING page for further details.
Where is Winchcombe Sports Hall?
Location
It is situated just behind the Old Boys School which is on the right hand side at the beginning of Gretton Road heading up from the town.
Parking
There is parking on site and usually there are spaces available unless there is an event in the Old Boys School.  In this case it is best to park in Back Lane car park (£1 all day) just behind the Library which is 2-3 minutes walk away.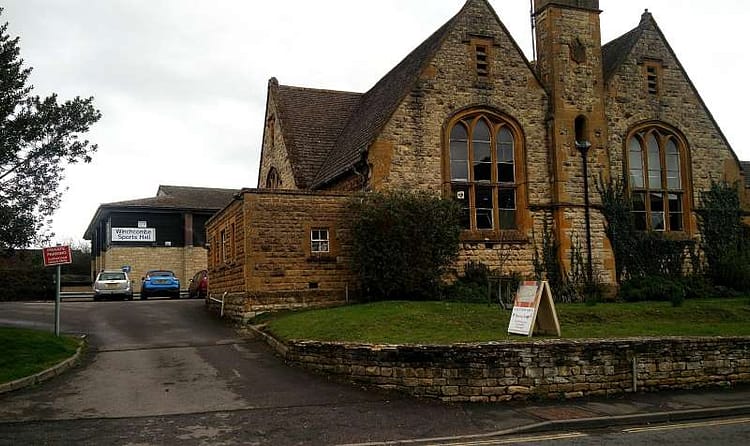 LIGHTING – IMPORTANT PLEASE READ
Following our regular user survey in the summer, the hall lighting was commented on as needing improvement by several groups. We have therefore  replaced the current light fittings with LED lighting that can be dimmed. 
LED will save energy and we hope the bulbs will be more durable with lower maintenance costs as a result. With the dimmer function, badminton players will be able to select lower brightness so they don't 'lose the shuttle' in the lights, whilst cricketers can opt for more light to be able to see a ball bowled at speed.
Having installed the lights they now switch on automatically as you enter the main hall.  There is no further need to use the switches in the cupboard and these MUST NOT BE SWITCHED OFF as this will reset the settings on the lights.  Similarly the lights will switch off automatically after people have left the hall.
If hall members have any comments or suggestions about this, please email secretary@winchcombesportshall.co.uk.
Latest News - Welcome to our new Secretary - Rosie Green !